Causes that we take to heart
For over 20 years, we have been involved in causes or organizations that are close to our hearts. Everything to give back to the next. Our employees are equally aware of the importance of our company's' involvement in society. Our results prove it!
---
Opération Enfant Soleil
Since 1995, RE/MAX du Cartier has been involved with Operation Enfant Soleil. To date, RE/MAX Québec has raised more than $ 21.5 million to improve the children's care and almost one million was from our agency.
It is not normal for a child to spend more time in hospitals than to have fun in the parks with his parents and friends. We are aware of that.
C'est pourquoi chaque année, nous sommes fiers de consacrer notre temps et nos énergies pour récolter le plus d'argent possible et ainsi augmenter la contribution totale de RE/MAX Québec, plus de 1 million de dollars par an, à cette cause qui nous tient à cœur.
That's why every year we are proud to dedicate our time and energies to raise as much money as possible and increase the total contribution of RE/MAX Québec-over a million dollars a year-to this cause we care about.
At RE/MAX du Cartier, we want to contribute to the well-being of Quebecers, both young and old.
---
THE FOULÉE DES PARCS
RE/MAX du Cartier has been involved in the Outremontoise community for the last 20 years. For the past 5 years, Serge Brousseau and his brokers have been present at the "Parade Walk". The aim of this event, which takes place in June, is to "run the neighborhood"! Secure courses in the streets of Outremont of 1, 2, 5 and 10 km are arranged to allow the whole family to take up the challenge. The goal is to promote a healthy lifestyle and, above all, to organize a fundraising event dedicated to the well-being of families in Outremont.
Proud partner of this event, our kiosk blue / white / red is installed there and visible! Bottles of water, make-up artists for children, balloons, bubble machine, bike pull, brokers always enjoy to meet the people of the neighborhood. Mr. Brousseau himself defied his own race time in 2017, traveling 10 kilometers in 59 minutes! "Health is our greatest asset," says M Brousseau.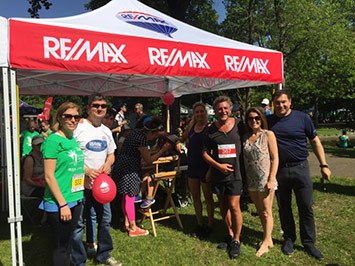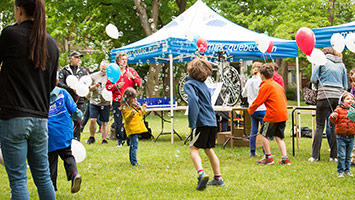 ---
THE GUIGNOLÉE
The RE/MAX du Cartier brokers at our place of business located on boul. St-Joseph in the Plateau Mont-Royal are preparing their big guignolée in the first weeks of December. It takes the form of collecting non-perishable food or money to help the community. First, brokers travel the streets of the Plateau to distribute more than 3,000 food bags. All bags are then collected and handed over to Jeunesse au Soleil. This is a fine gesture of solidarity! The cold, the snow, nothing stops our brokers and this, for more than 15 years!